SHADES OF TOD AND BUZZ
It's 1991. Me and a buddy have just finished bad chapters in our lives. It's time for the next one and who knows where it will lead. First destination, Route 66!
---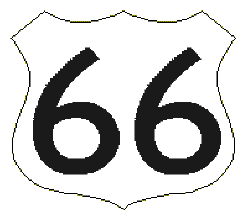 ---
The "Prequel"
Route 66. John Steinbeck called it "The Mother Road" in his book, "The Grapes of Wrath." Route 66. It was a symbol of the Beat Generation in Jack Kerouac's "On the Road." Martin Milner and George Maharis hopped into their red (the show was black and white, but you just KNOW it had to be red!) Corvette and cruised down Route 66 right into your living room every week. What singer HASN'T sung their version of Bobby Troup's "Route 66?" Why, Route 66 is as much of a symbol of America as baseball, hot dogs, apple pie and Chevrolet!
Route 66 is the first intercontinental highway that ran thru eight states. Route 66 conjures up images of hitting the open road, nights spent in small tourist courts and eating at greasy spoons. Who could resist a stop at a tourist trap to "see live rattlesnakes," or buy a rubber "tommyhawk" or a rhinestone studded change purse? But, a check of today's maps and US Route 66 is hard to find.
It took five Interstates to take the place of Route 66. Many businesses and towns who made their living on old 66 have died. But there are still those who refuse to die, restaurants with good home cooked food and tourist courts with clean rooms. They're all still there. You CAN get your kicks on Route 66...if you know where to look.
I don't know why this highway has interested me so much, but it has. I remember reading an article on 66 in The Washington Post when the last stretch of 66 was decommissioned by the government. The article just stayed with me and wouldn't go away.
Time passed, I got married (for the first time...), and forgot all about Route 66. "Sh*t happens" and in the Spring of 1990, I was getting ready to get a divorce. I stopped by my folks house to break the news to them, and sitting on the kitchen table was my dad's copy of "Corvette Quarterly," with a cover story on, you guessed it, Route 66! Then and there I decided once this divorce thing was over, I'm hitting the road!
A few months before I was scheduled to leave, I had a friend who was just getting over a long relationship. He told me he needed a vacation. I told him I had just the place...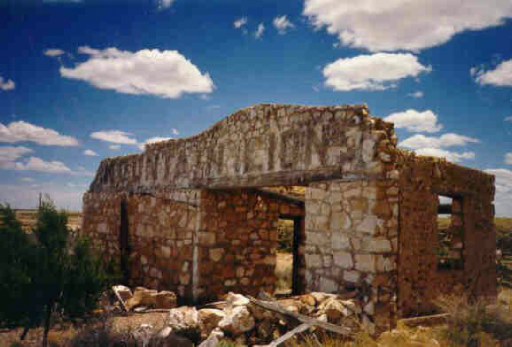 I planned this trip with just two rules.
Rule number one, we'd only stay in LOCAL motels, and eat in LOCAL restaurants. Face it, all the "chain" motels and restaurants all look the same after a while. No pre-packaged, this-one-just-like-the-last-one stuff for us! No sir! We're going to see the REAL America!
Rule number two, no game plan. We decided to stay off the Interstate as much as possible, and drive as much of the remaining stretches of old Route 66 as we could find. In other words, why drive BY the country when you can drive THROUGH the country, ya know? I figured we could get through the Arizona and California parts of Route 66, but decided we'd just hit the road and see what happens. Shades of Tod and Buzz!
This is the story of my first adventure on Route 66.
We'd landed in Phoenix Arizona and had to find a rental car. Had to be just the right car for our 66 road trip. No subcompact econobox...I want an American made, V-8 powered, gas guzzling convertible! We called and quickly found a place with a Mustang 5.0 droptop. "It's a quick one - runs like hell", as the car agent told us. We hopped in the car and drove 200 miles to Winslow Arizona that night. We tried to follow the song, and "don't forget Winona," but we took the ramp and found the road closed.
Our first night out of Phoenix, we ended up at the Mayfair Motel in Winslow, located on what is now Business 40. As with most areas, the "business" section of an Interstate Highway is usually an old "US Route" - the road before the Interstate. Take one for a spin the next time you're traveling.
Up the next day, and ready for our first full day "on the road." I couldn't resist...had to get my picture taken "standin' on a corner in Winslow Arizona." Never did see that girl, my lord. A "flatbed Ford" did drive by though....
Good breakfast grub can be found in Winslow at the Falcon Restaurant, a Route 66 institution. Their corn pancakes can't be beat! After breakfast, we decided since we were reasonably close to New Mexico, to drive to the first "big town" we found in the state, and double back, heading for the end of Route 66 at the Santa Monica Pier in California.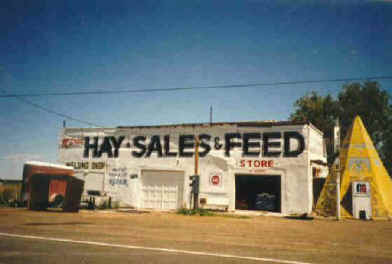 As we were close to the New Mexico border, we decided to head to Gallup, then double back. As they say, the West is truly the home of "wide open spaces." Mostly "hammer down" Interstate the entire time. Once we get to Gallup, we'll drive as much of 66 that we can find, all the way to California. Can't wait to hit those wide open stretches of Route 66!
In Gallup, you must stop at the El Rancho Motel for a quick look at the lobby. It is a 1930's era motel that has been fully restored. In it's day, it was THE place to be. This was never more evident by the hundreds of autographed photos of stars of yesteryear that were hanging on the walls of the lobby. A truly classic motel, worth a stop just to look in the beautiful lobby.