DAY FOUR - BAXTER SPRINGS KANSAS TO CHANDLER OKLAHOMA
We left the Baxter Inn-For-Less and rolled into Oklahoma about a mile or so later. The speed limit jumped to 65 and off we went! Continuing into the town of Miami (Mi-am-uh) I was struck by the absolutely beautiful, ornate Coleman Theatre, presently under restoration. I only found out later that night that it was open for tours. I missed it, I suggest you don't.
Just outside of Miami, between Miami and Afton, we drove the two eight foot stretches of old, old, old 66. These are a "must do." Detailed directions can be found in Bob Moore's book. Taking the "hustle and bustle" traffic to the middle of nowhere. Dad and I imagined what it must be like driving an old Model A and yielding to the oncoming traffic by pulling half the car over onto the dirt shoulder. Taking a cue from Tom Snyder's book, I got out and stretched out in the roadway, covering it from one end to the other.
On the second eight foot alignment, I was amazed when we drove over I-44 via an overpass! From an eight foot roadway, driving over a super slab and back to the old road all in a hundred feet! These rare sections of 66 are deteriorating fast. Do them soon, they should not be missed!
---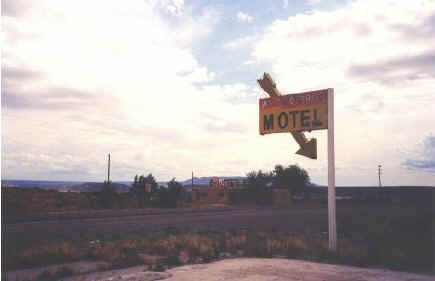 ---
Heading into Afton, I could tell that it was once a very busy place. A block or two of Main Street with several buildings that must have been quite a sight when they were new. Now, just shells. Ghosts. I have noticed that there seem to be many more Ghosts of the Old Road in Oklahoma. You can spend a year in salary photographing all the abandoned buildings and signage.
Heading into Foyil, we stopped at the Totem Pole Park, home of the world's largest totem pole. The entire park was built by a fellow named Ed Galloway who started the place after retiring and didn't finish until he was in his 90s. I hope I do as good as Ed Galloway. While I was there, I went to the gift shop and picked up an out of print book with the story of Andy Payne and the Bunion Derby. I later find out that we missed the pink concrete in town. Ah well, we'll see it in Hydro.
Route 66 through Oklahoma seems to still be a main route in Oklahoma. Much more traffic, at a much higher speed too! When you get on the old and abandoned stretches of road, you can creep along at a snail's pace and enjoy it even more.
We bypassed the old road thru the city of Tulsa to visit some relatives in Broken Arrow. We got back on track in Sapulpa. My former landlord was raised in Sapulpa - still looks like a nice place to call home.
---