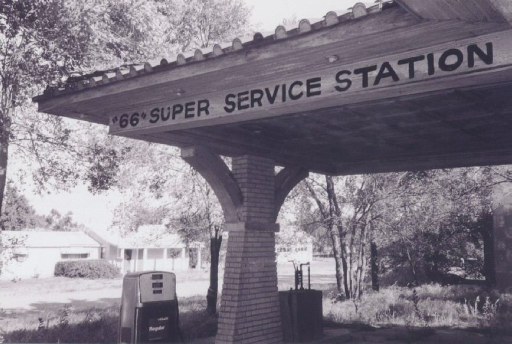 ---
ON TO THE LINCOLN MOTEL
Just outside of Bristow, there is a very small loop of the old road. It's still blocked, but you can drive around the barricade. You can find it in The Illustrated Guide to the Mother Road, Bob Moore's book. Look for the "Route 66 Shoe Tree" and check out the two trees filled with pairs of old shoes. Must be some sort of Oklahoma folklore thing. Gotta check that out!
Shortly thereafter, Dad and I were driving down the road.
'STOP!'
'huh?'
'That's the biggest spider I've ever seen!'
'huh?'
After four days on the road, I thought the old man must be going car crazy. So, I humored him and backed up. Sure enough, two of the biggest tarantulas I've ever seen, walking (if that's what spiders do) down the middle of Route 66! A few miles up the road on another abandoned segment of road, there was another one in the middle of the road. Didn't know Oklahoma had wild tarantulas. Before now, I've just seen them in pet shops. Great, now when I'm exploring these abandoned buildings, not only do I have to watch out for snakes, but spiders too!
We called it a night at the Lincoln Motel in Davenport. $38 for a clean comfortable room. The Lincoln is a vintage 66 icon, open since 1939. I recommend it highly.
After checking in, we met our neighbors. Turns out they're from Richmond VA, about an hour from my home. The lady next door has relatives in the same town as my wife! Then I noticed a couple at the front of the motel, the same couple I saw when we were at the Wagon Wheel two nights ago. Small world!
I surprised myself tonight. I sat outside the Lincoln on a bench overlooking 66, along with many other travelers. I wrote my postcards to my wife and then I watched the traffic pass. And I enjoyed it!
---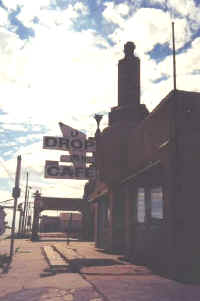 ---
DAY FIVE- Texas Bound! (on the road to Tucumcari)
We hit the road this morning and as usual, we used THE ILLUSTRATED GUIDEBOOK TO THE MOTHER ROAD as our guide. After we got back, I learned more about Jerry McClanahan and Jim Ross's works, THE ROUTE 66 MAP SERIES. I still have yet to get my copy, I would like to compare the two. Irregardless, I would suggest that if you get your kicks, have as much material as possible. I'm sure that there are things that were on the Map Series that weren't in the Illustrated Guidebook, and vice versa.
Anyway, we hit the road running and totally missed the Pioneer Camp in Wellston. Coming thru Luther City, a police officer flashed his overheads (the lightbar on top of the roof) at me. Cripes, I was only ten miles an hour over the limit!
As with the other larger cities, we bypassed Oklahoma City. We got back on track at Yukon, now famous for being the hometown of Garth Brooks. We stopped at a car dealership that sells nothing but muscle cars, just to look. We saw the salesman in the keen plaid suit heading our way, so we split.
We rolled through Hydro and unfortunately missed Lucille. I had read alot about her over the years and was looking forward to seeing her. Ah well, another thing to do for my next trip! (2000 update - I'm sorry to say that Lucille has passed away in August. For more info on this great lady, you can access her web site by clicking here.)
I'm noticing many more ghost buildings and the like in Oklahoma now, and a noticeable change in the terrain after Oklahoma City. It's much more "westerny".
We stopped into Clinton and grabbed a bite at Pop Hicks. Good food, cheap prices, what more could you ask for? Sorry to hear of this 66 landmark burning to the ground. We ran into our neighbors from the Lincoln at Pop Hicks, we would pass each other three more times during the day.
(1999 update - Pop Hicks has been destroyed by fire)
After a bite at Pop's, we stopped into the Route 66 Museum in Clinton. This place is a "must see" on any 66 trip. It also has a well stocked and inexpensive gift shop.
Around Sayre, I ran into my first snake while taking a few pictures of the remnants of an old Whiting Brothers gas station.