DAY 5 - ST. JAMES TO CARTHAGE
This morning we rolled out of St. James and were in Rolla at 10 for the car show. I've been looking forward to this, checking out a 66 event in a 66 town - just like the locals!
Well, not only did we miss the car show (it was on Saturday) but the Route 66 Motors was closed Sunday as well! Man, this "closed" thing is a running joke on my road trips. Since dad and I decided we won't have time to head to Memphis, so we'll be backtracking. We'll be sure to hit Rt. 66 Motors on the way back.
Stopped of at the "Road Maze in Arlington" and took several pics. Vernelle's Motel has a new sign up beckoning travelers off the Interstate. It seems they got a new coat of paint this year too. There was also a FOR SALE sign in front of the old Beacon Motel, but it looks like it'll need LOADS of work.
| | |
| --- | --- |
| Next up was Devil's Elbow, one of my favorite parts of the trip. Beautiful four lane scenic road and not a person driving it - NOT ONE! Must have been a good ten minutes before we saw the firs car. I stopped alongside the road and just sat for a while taking pics. Deserted. | |
| | |
| --- | --- |
| | This time I took the leg thru Hooker. (that don't sound right... ) Anyway, I found the old Munger Moss Restaurant, now the Elbow Inn. Seems like a rough and tumble place, Hooker. Nothing but bars and abandoned buildings. |
We ate up alot of time today flea marketing. No spectacular purchases, but places to stop on the way back if the money holds!
On thru Lebanon, we stopped off at the Munger Moss Motel and spoke with the manager there. Nice lady, lots of goodies in the gift shop. A few notable goodies for sale are vintage Munger Moss and Sattellite Cafe post cards. They also have some vintage unused Sattelite Menus too!
Tried to get a sandwich at Wrink's Market but they were closed on Sunday. Maybe on our way back....
Missouri seems to have alot of ghost buildings and stretches of the old highway that detour way off the Interstate, which I really like alot. Gives you the feeling of stepping back in the past.
We decided to make our night here in Carthage an early one. We checked into the Boots Motel around 5:30. Not too bad, except for this dang fly buzzing us and the old newspaper and half a "feminine product" in one of the drawers. Don't worry, it's unused. I just wonder where the other half went... (hey, it's all part of the "66 experience", right?) Other than those two small inconveniences, the Boots was grand. I got a spot in the newer section, and the owner was quite a nice gent.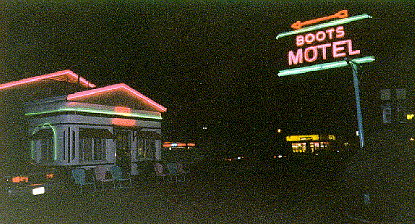 We're cooled off a bit watching "The Postman" on TBS, then Dad wasn't in for a drive-in movie, but I drove by to see of the gift shop was open.
I don't remember the owner's name right now, but he was at the ticket booth . I asked when the gift shop would be open tomorrow, he said 8, but he could open for me now! The shirts I wanted were in his Concession Stand, so we walked back, I got a shirt and a few postcards and a Drive-In magazine. Plus (get this!!!) I got a tour of "command central" - the projection room!
Seems the place was totally gutted when he got it, and he literally restored the place from the ground up. A true dedicated roadie.
We got pizza next door to The Boots for dinner. Since they were busy, it took an hour - but when we picked it up he knocked $10 off the price! Shoulda ordered 2!