POLICE MOTORS
Police motormen (and motorwomen) are asphalt acrobats. They can do things on a motorcycle that just don't seem possible.
I've been lucky enough to be a motorman for my agency. I've ridden over 20 years, and saw no need to attend Motor School. Boy was I wrong! What a humbling experience. Motor School was the most physically challenging thing I've ever done. And what an incredible feeling to pass the class!
This page has been dormant for a long time. Too long. I've got a scanner coming the first of the year, so please check back then. Hopefully, more pics, links and stories will be up and running.
Police Motors and Related Links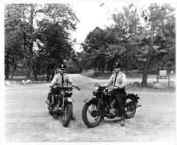 Vintage motor pics!
| | | |
| --- | --- | --- |
| Harley Davidson Police Motorcycles | BLUE KNIGHTS INTERNATIONAL LAW ENFORCEMENT MOTORCYCLE CLUB NATIONAL HEADQUARTERS | Blue Knights Maryland IV |
| Keep up to date with the latest CHiPs news! | Police Motorcycle Historical Society | |
| | | |
| --- | --- | --- |
| | St. Mary's County MD Sheriff's Office Motor Unit | Directory of police motorcycle web pages from policeguide.com |