Route 66 - Road trip 1999!
I guess I should start "before" the beginning....
My father and I had talked for quite a long time about taking a little road trip, and spending some "quality" time together (I'm 35, dad is 59). We had talked about taking a drive down Route 66 when Dad turned 62. Don't know why we picked that date.
Well, early in 1999, we both had friends pass away from unexpected illnesses. We talked about it and thought, "Why put it off any longer?" Might as well do it while we still can! So, we started to make plans.
We had originally decided to take my 1965 Pontiac GTO. Between the time we started talking about this road trip, and the time we actually did it, gas prices jumped - high test unleaded went from $1.10 a gallon to around $1.40. (2000 update - ahhhh, the good old days!) Not alot, I know, but when you get 10 miles to the gallon on a good day in an old muscle car, and are thinking about a 6000 mile road trip, it all adds up! (Now, these prices are MARYLAND prices...more on that later!)
So, we decided to rent a car. We got a good deal from the wife of a guy I work with - her dad owns an AVIS franchise. Our trip was done in a 1999 Olds Intrigue, with only 5000 miles on the odometer! It was maroon with bucket seats, cassette AND a CD player! Most important, we were to later learn, it had an air conditioner - something that my GTO was lacking.
Our guide for this journey was Bob Moore's "ILLUSTRATED GUIDEBOOK TO THE MOTHER ROAD". An excellent book! We followed this book the entire trip. I'm proud to say that we did most all of the book.
My original "guesstimate" of this trip expenses was for $20 a day for gas, $30 a day for lodging to be split between dad and I, and $20 a day each, for food. I was never good at sticking to a budget - (just ask my wife!) but I was surprised to find out how it turned out at the end of the trip.
---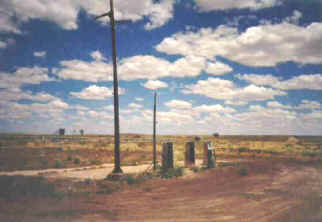 ---
DAY ONE - Avenue, Maryland to Danville, Illinois
June 12th, we left my hometown of Avenue (yep, that's the name of the town!) Maryland and hit the road running! We got thru the Washington Beltway and headed up Interstate 270 towards Gettysburg, Pennsylvania. As we got on the Pennsylvania Turnpike, the first exit sign we see is for PA 66 - I just can't wait! We then ran a good length of the Pennsylvania Turnpike before hitting I-70.
The PA Turnpike is a toll road, but actually it's pretty cheap. It ended up being the sole toll road of our trip. Just outside of NEW STATION PENNSYLVANIA, we ran into a curious billboard beckoning travelers off the turnpike....
"NUDE GIRLS - FREE FOOD - EXIT ( )"
We passed, and continued on down the road.
Coming thru Ohio, we did our good roadie deed for the trip. We noticed a biker pushing his Harley down I-70 with huge black clouds right behind him. No, it wasn't broke down, it was out of gas! : )
Anyway, we traveled our journey wiht a gallon of gas in the trunk - just in case - so we turned around, gassed him up with enough to get him home. Not a minute after we finished, the clouds opened up!
We continued to hit rain on and off thru the rest of the day. As we got into Ohio, we got off the Interstate and took a bit of the National Highway, Route 40. We saw a few old filling stations and motels. The most interesting part was when we came to a bridge that was out. The traffic cones directed you to the opposing two lanes of traffic - but there were NO road crews! Just flash your lights and go! A "do it yourself" detour!
We planned to spend the night in Indianapolis Indiana. But as we approached the area, we saw more and more street rods at the motels. Come to find out, it was a GOODGUYS hot rod show that weekend, with FIFTY THOUSAND street rod folks invading the area! No motels were available for an hour or so either way around Indy! We finally did find a vacancy about an hour outside of Indy. The place advertised all rooms for $25. As we talked to the clerk, these rooms were $45, since the Goodguys show was over an HOUR away back in Indy! This was the first of many places we encountered that advertised one price and quoted another.
We headed on....
Finally, we found a Red Roof Inn in Danville Illinois, the hometown of Dick and Jerry VanDyke. Not too bad, and $53 a night.
---