DAY 2 - DANVILLE ILLINOIS TO CUBA MISSOURRI
We got up and ready to go, the first day we'll be "on 66!" I opened the door to the motel - RAIN! We packed our things, dad made a few hits on the motel ice machine for our cooler, and we were off! The first song on my cassette that day? "Have You Ever Seen The Rain?" by CCR. The answer is yes...
We left the motel, and drove up Illinois 47 for about 50 miles to Dwight, the start of our trip.
No special reason for Dwight, I just wanted to avoid the "big cities" because I figured that they lost the "roadside atmosphere" like I found in many of the small towns. You know, full of McDonald's, Wal-Marts and the like.
Anyway, as we drove up 47, we saw nothing but soybean fields on both sides of the road as far as you could see. Fifty miles worth! We got to Dwight, and had a bit of trouble finding a starting point from Bob Moore's book (guess I should have started at the beginning after all!), but we made do.
Once we hit Pontiac, the book was right on the money 98% of the time. I guess things have no doubt changed since the publication date.
Thru Illinois Route 66, there were miles and miles of what appeared to be useable four lane highway, with two of the four lanes closed off to traffic. Wish I was on my motorcycle....I'd jump the medians and ride some of those closed stretches of the road! But, some of the road was in bad repair, and it probably would have beat me to death!
I was looking forward to getting my dad some of the world famous corn dogs at the Cozy Dog - dad LOVES corn dogs. But, it's Sunday - and I found them CLOSED! (you'll find that this "closed" thing was a recurring theme of our trip)
We then drove to the Cardinal Hill Craft Shop just a bit out of the way, and run by Bob Waldmire's brother Bill. Incredibly personable fellow. It must run in the family! I picked up one of Bob's incredible New Mexico posters for Cindy, my wife. We saw many of Bob's portraits of famous folks on the walls of Cardinal Hill. Many of them are unpublished. I'd been looking forward to seeing Bob Waldmire again, after meeting him last year in Hackberry. But, he was on the Illinois 66 tour that weekend. Bill was kind enough to show my dad Bob's bus. Incredible!
We got back on the road and headed thru Litchfield - stopped at the route 66 Cafe for a bite. We were waited on my a nice gal with a black eye - "you shoulda seen the other guy" she told us. After lunch, I told her I'd like to pay her bill. "How 'bout my electric bill?" I liked this waitress - I hoped the other guy got his just deserve. We were at the cafe for about 40 minutes. The only patrons were my dad and I, and someone's granddad who never looked up from the video poker machine.
At Granite City, we hopped on the Interstate to get around St. Louis. As with my trip to LA, I imagined that St. Louis has lost much of it's 66 atmosphere. If I'm wrong - well, I'll just get to it on my next trip!
After crossing into Missouri, we passed more and more old motels, many still in operation. There are many rolling hills in Missouri - it reminds me of West Virginia.
We came to rest for the night at the Wagon Wheel in Cuba. The couple who runs this place must be well into their 80's. They were incredibly nice folks. The rooms and grounds of the Wagon Wheel are immaculate. The Wagon Wheel Motel in Cuba ranks with the finest of motels the Mother Road has to offer. What a great neon sign!
| | |
| --- | --- |
| Plus, all for only $15 a night! This motel dates to the 1930s and the current owners have had the place since 1963. They probably haven't raised the rates since! | |
After settling in, dad and I went to find a phone. I was surprised to discover that the I-44 off ramp was less than a mile away, complete with modern super truck stop, Super 8 Motel, crowds, cars and noise. I come to the conclusion that we must avoid the Interstate on this trip as much as possible.
The Interstate in only a mile away from the Wagon Wheel Motel on Route 66 - but it's really a world away.
---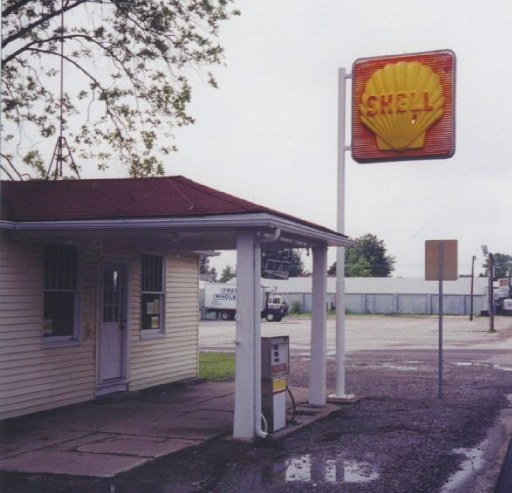 ---
DAY THREE- Cuba to Baxter Springs Kansas
We hit the road and our first stop is Route 66 Motors in Rolla. There are plenty of classy unrestored vintage vehicles, tons of automobile memorabilia (both reproduction and vintage) for sale here. I passed on a Coral Court brick for $40.
Moving thru Rolla, as in many large towns, Route 66 is modern, with just a few vintage motels and neon signs. Running thru Devil's Elbow, we cross the last stretch of Route 66 bypassed in 1984. Four lanes of pristine concrete road. I stood in the middle of the route and took a few pictures...no one on the highway as far as you could see in both directions. I wonder if I could have done that in the 60s.
Your journey continues here ->