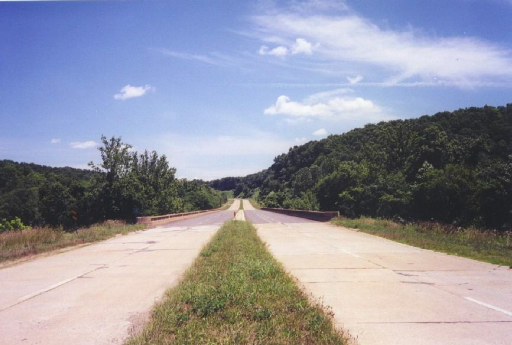 ---
On our way thru Lebanon, MO, we stopped at Wrink's Food Market. Wrink is a heck of a cheerful guy - we got two huge ham and cheese sandwiches with a thick slice of tomato, lettuce and mayo for the astronomical price of $2.50. Not each - for both! Talking with Wrink, we ask him about 66. Wrink mentions that he travels the world thru his little store. I don't know how much longer Wrink's will be there. He's been at it fifty-some years. Stop by for a bite to eat while you still can. (2000 update - Wrink's is still in business!)
I was really looking forward to spending the night in Carthage. In fact, it was one of the few "planned" stops along the way. It really didn't matter what time we got there, we were spending the night. Why? Carthage gave an Easterner like me the rare chance to catch a drive-in movie!
I was really looking forward to checking out the Route 66 Drive-In, recently restored. We roll into the lot and it looks great. Brand spanking new. We're there in the middle of the week - they only show movies on the weekend. The Gift Shop? Closed!
---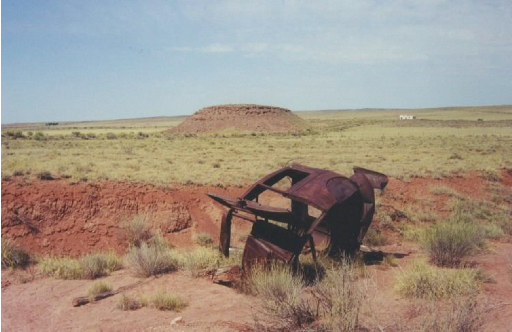 ---
In Carthage, we checked out a classic 66 motel, the Boots Motel. The pics I've seen of this place in the Route 66 magazines and books give the impression that it's in the middle of nowhere. Actually, it's just a block off the main drag in town.
Joplin was next, which was progressing fast, like Rolla. We left civilization after making a right on MO 66 in Joplin, and heading onto Kansas.
It seems to me that Kansas show the hurt of being bypassed more than any other state. Maybe that's because it's so small and concentrated. I notice many abandoned buildings thru Galena. We stopped by the Galena Museum (closed, of course!) and notice two real honest-to-goodness 66 shields!
We stopped for a bite to eat at the Eisler Brothers General Store. $5 for two sandwiches, big fat and full o'meat. We meet Scott Nelson, president of the Kansas 66 association. We also met the secretary of the association, who gave us a ton of useful tips. In fact, he set us up for a night at the Baxter Inn For Less. While he was giving us directions to the Inn, he gets a pen from his pocket and drew out the directions on the hood of his truck!
We spent the night at the Baxter Inn For Less in Baxter Springs, Kansas. Clean, spartan rooms, right next to the Wal-Mart. These big chains seem to put another nail in the coffin of these old towns. Many of these quaint, old towns are full of vacant shops, and they all seem to have a Wal-mart at the end of town.
All in all, it's been a great trip so far. We've met many wonderful folks. Ladies on riding mowers, barefoot kids on dirt roads, people you've never met who talk to you like a long lost friend.
Norman Rockwell's America exists - right here on old Route 66!