DAY 4 - LINCOLN ILLINOIS TO ST. JAMES, MISSOURI
Dad and I got a late start out of Lincoln this morning, we didn't hit the road until around 9. We were getting ready and Dad had a revelation.
"Hey, I wonder how far it is back to Funk's Grove?"
Hmm....good idea! So, we were off to Funk's Grove and got there around 9:30 or so. This time I picked up a quart of sirup instead of a pint, so hopefully it'll get me thru a year or two.
Heading back south on I-55 (hey, we already did 66 the day before) we took "Business 55" into Springfield and stopped off at SHEA'S HISTORIC ROUTE 66 MUSEUM, just passed the Fairgrounds.
Folks, I've not read of this gent anywhere, except for John Weiss' 66 guidebook I picked up. THIS MAN IS A TREASURE OF THE ROAD! He's been located at this corner 45 years selling gas ('til the 1980s) and pickup caps. He was at another spot on the road 10 years before that!
Dad and I spent a good 30 minutes there, and this guy has a great collection of gas station memorabilia and several tales to tell. Be sure to check out his newest acquisition - an all-steel gas station building, dating to 1918!!! If you've got time to kill, make it a stop!
| | |
| --- | --- |
| Right after we left Shea's, HELLO COZY DOG! Another stop that is well worth the wait! Best corn dogs this side of, well, anywhere! Dad and I picked up a bag of 6, two of which served as road snacks later in the day. | |
We continued south with a stop at the old Standard Station which was beautiful, as well as Soulsby's Shell. The oil rack looked a bit bland this time, last year it was decorated with flower boxes.
Last year we totally missed the Chain of Rocks Bridge, this time we found it. It's a bit desolated - I'd imagine the local kids use this part of the Mother Road as a drag strip - evidenced by the crashed gates before the bridge that were blocking the road.
I don't know if this is a regular occurrence, but when we arrived, the gates were wide open. Not only the pedestrian gates at the bridge, but the ones before the bridge as well!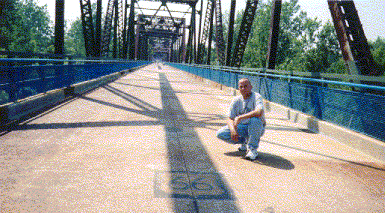 It seems that the bridge is now used as an "exercise spot" for locals. We ran into a half dozen people walking, and biking the bridge. It was too damn hot to make the whole thing, but we did get out and walk a bit. There was still a "jiffy john" and a table and tarp set up at the Illinois side, along with a "Welcome to the Chain of Rocks Bridge" sign - I guess that they still haven't cleaned up from the Illinois Tour a few weeks prior.
We got on I-270 and exited at Times Beach, which is now a park. Dad and I drove thru, but didn't see one boarded up home - the place looks great!
Back on the I and off at St. Clair, and rolled into Meramec Caverns a short time later. This place was PACKED! I was expecting a small place, but it is huge! Camping, motel, gift shop and more - there was literally a good 1500 people there.
We left the Caverns and I was looking forward to another night's stay at the Wagon Wheel in Cuba. I was kidding Dad and told him with the money we'll save we can eat steak tonight.
Well, at 7:30 in the evening, they were booked full! (TRAVEL TIP - call for reservations!) Before leaving Cuba, we stopped off at the Route 19 Drive In for some pics. This is a bit off 66, but well worth a look. 100% authentic, right down to the drive-in speakers still hanging on the posts!
| | |
| --- | --- |
| It was getting late, so we checked the three motels in St. James. We decided on Finn's Motel because they had the best neon. Not as cheap as the Wagon Wheel, so instead of Steak, we're only having steak-umms! | |